Welcome
A place which makes you feel most welcome, very well looked after and where you wish to stay on and on and on....
Enjoy the magnificient skiing- and hiking area of the famous Jungfrau-Region!
Daniel and Susanne Eisenegger, together with their cheerful team will help you to have an outstanding and inspiring experience in the Swiss Alps. Formality is replaced with a warm welcome. The Hotel Edelweiss is your home whilst you are with us; relax, unwind and let us take care of you! We hope that you will join our lifestyle; a lifestyle based on quality time, on fun and laughter and on living life to the full.
The opportunities and natural attractions of the Jungfrau Region are hard to top. Explore the various mountains, glaciers, gorges, water falls and the breathtaking scenery by hiking, cable cars, trains, gondolas and so on. The possibilities are boundless. If you wish we can give you excellent advice in planning your excursions.
The hotel is well looked after and it's reasonably priced. It's central and yet in a quiet location, just a 5 minute walk away from the train station in Wengen (railway line Lauterbrunnen - Kleine Scheidegg - Jungfraujoch) .
Book direct on our website, give us a call or just send an email to get the best rooms and booking conditions.
We are looking forward to your visit!
Daniel and Susanne Eisenegger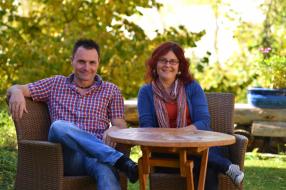 Join the 3D Tour